By on October 15th, 2016
3 Fun Things to Do with Your Host Family in Costa Mesa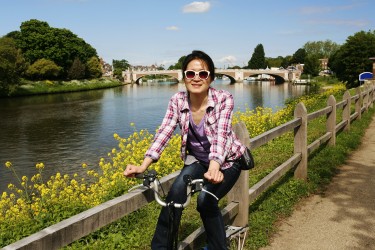 One of the best ways to get to know your host family during your time as an international student in America is to have fun together. Hanging out at home for cozy family meals is going to be the staple of your new friendship, but an occasional event into the city of Costa Mesa or the surrounding areas is a great way to build memories together. There are many places for international students around Orange Coast College that would be great to check out with your host family.
1. Get Outside
California is teeming with ways to celebrate the outdoors, and why shouldn't it be? The land of both beaches and mountains, it boasts some of the most diverse landscapes in America. There are many great ways for you to explore the natural beauty and wildlife around Costa Mesa.
You and your host family could check out some paddle boarding lessons from Tiki Surf, located right in Costa Mesa. You don't need to know anything other than how to swim. The guides will give you plenty of instruction and show you one of the best ways to explore the Pacific.
You could also head to either the Pacific Marine Mammal Center in nearby Laguna Beach, or the Coastkeeper Garden in the City of Orange. At the Pacific Marine Mammal Center, you'll get a chance to get a behind the scenes look at how American marine biologists are doing their part to help save endangered and injured marine wildlife. At the Coastkeeper Garden, in addition to seeing one of the most beautiful sustainable gardens around, you'll find out about the Orange County Coastkeepers work in sustainable energy.
2. Head to LA
Just about any international student within driving distance of the famous city of Los Angeles is going to want to take a visit. It's where major motion films are made and premiered, it's the home of celebrities, and it's chock full of exciting things to do. If you love American TV and want to be a part of it yourself, you and your hosts could join a live television audience for a day. Through Audiences Unlimited, you can be part of a primetime taping, and get a great look at the process by which these shows are made.
You could also check out the Griffith Observatory, and get a brilliant look at the night sky. This powerful telescope penetrates the city's smog, so you can truly see the Northern Hemisphere sky. There are frequent tours and educational programs that you and your homestay hosts may wish to attend.
3. Stay Local
There is plenty to do around Costa Mesa that won't take much planning. You could hit up the Lab Anti-Mall for a unique shopping experience one evening, or check out the Secret Neguchi Garden right behind Jerry's Deli.
The Lab Anti-Mall is located just outside of town, and features an open-air shopping garden, where you wander from place to place and enjoy the feeling of being in a cozy environment that is full of unique boutiques and restaurants.
The Secret Neguchi Garden is somewhat hidden from view, but those who visit say that it's a stunning example of Neguchi's way with natural, local plants, and is filled with the unique stone sculptures that are iconic of this style.
No matter where you go, there are plenty of amazing things to explore in California, and around Costa Mesa. You and your host family can create a lifetime of new memories in just a few short weeks thanks to the proximity of Costa Mesa to so many attractions.